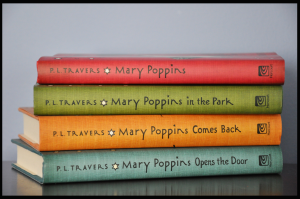 Because of the Fourth of July this weekend, not only do I have holiday time off tomorrow, but I also had the afternoon off today. What's a girl to do with the afternoon off? I thought it would be great to see this, eat here, or enjoy this. Alas, I woke up with a cold that came out of nowhere, so I ended up here this afternoon eating chicken-noodle soup for lunch.
I figured I'd rest up in order to recover before the holiday, so I decided a little light reading would do the trick. I found some of the lightest reading in my library: a series of Mary Poppins children's books. I picked up these books in Seattle a couple years ago and haven't read them yet. I always purchase a book for a vacation souvenir. On that trip, I'd hoped to find one on blown glass, because I love that art form and visited a few blown-glass museums or art studios while I was there. Not able to find anything I liked on blown glass, this set of books caught my eye about thirty minutes before I headed to the airport. I knew they'd make a great set for the library I hope to have in my home. While the books don't showcase blown glass, this series captured my vacation for two reasons: (1) Seattle seemed "practically perfect in every way" and has become one of my favorite cities, and (2) an umbrella, which is iconic with Mary Poppins, is the perfect representation for the Seattle rain. That's how these four books made their way onto my bookshelf. And today I finally had a chance to peruse them. I've only made it through the first book, but it's been a nice read. (Disney kept pretty true to it in the movie.)
Oh, and did you notice the title for this post? It links back to another book/movie series that I love. Any guesses?