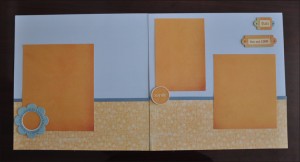 On Wednesday, I challenged myself to create a layout in just ten minutes, following these five parameters:
* I had five minutes to gather products before the clock started for the ten-minute period.
* The layout needed places for photos, but I couldn't add the photos until afterward. In fact, I couldn't base the layout on any specific photos.
* The layout needed to contain at least one embellishment.
* The pages should be primarily made of cardstock or paper.
* There must be room for a title and for journaling.
The layout above was the result. Granted, I did adhere the ribbon and orange blocks after the ten minutes were up, but I feel like this was a good start. I still needed to add the photos, which would then allow me to create the title and journaling. For spending only ten minutes, though, I was pleased with the result. Here are a few lessons I learned:
1. Ten-minute pushes have incredible power. The next time you have a task to do, set the timer and pretend you only have ten minutes to finish. You may not be completely done after the ten minutes, but I guarantee you'll be much further along than you would have been had you not pushed a ten-minute time frame. Without my challenge, I'm sure I would still be looking through my papers after ten minutes—or even after twenty minutes.
2. Sometimes it's okay to have a vision and a goal without knowing what the road you'll take to get there actually looks like. My goal for this challenge was to have a nearly complete layout and to enjoy some creative play. I had no clue what cardstock colors or design arrangement would help me reach that goal, but I knew the parameters I'd set would produce the finished result.
3. It's okay to be "good enough" on certain tasks. That's a painful sentence for perfectionists. I could have spent hours creating a layout with perfect alignment and balance, or I could create a page today that's done and is still "good enough." I think we need to make choices between "good enough" and "perfected details" on the projects on our to-do lists. This Saturday, making an only "good enough" lunch or completing a "good enough" workout will give me extra time to iron out the details on a slideshow I'm creating. Next Saturday, I may decide that a "perfected detail" workout is just what I'll need. In prioritizing, we need to remember that sometimes "good enough" is good enough.

Are you ready for a challenge? Find an item on your to-do list and try to complete it in just ten minutes. See how much you get done! If you're a scrapbooker, create a ten-minute layout like I did and then send me a link to your post when you're done—I'd love to see your work.
***
Here's the nearly finished layout. I still need to print my pics and then add the stitching around them and in a couple other spots on the layout. But this provides the direction I'm going after another ten minutes.