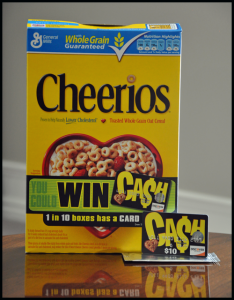 A box of Cheerios for the low price of only $1.25? You don't have to ask me twice. Granted, it was the small box size, but I'd been wanting Cheerios anyway, and a box found its home in my pantry. When I went to pour a bowl of the whole-grain oats on a lovely morning earlier this week, I noticed the marketing material on the front of the box: 1 in 10 boxes wins a cash card.
I opened the box pondering how blissful it would be to find a cash card inside, but I wasn't holding my breath. Then I noticed a shiny silver wrapper glistening in the sun (or at least that's how I like to picture it). The song "(I've Got a) Golden Ticket" came to mind, and I was humored to feel a little like Charlie Bucket when he opened the Wonka Bar and found the golden ticket. It was a glorious morning indeed. The $1.25 box of Cheerios not only paid for itself but also left an extra $8.75 to use on the next set of groceries.
As I reveled in the prize winnings, my thoughts turned to this scripture (see verses 20–24). I couldn't help but think about how often we do our part to pay $1.25, metaphorically speaking, to do a good deed, and immediately God blesses us with $10 in return. Sometimes we may not see that $10, but we can trust it's there—likely deposited into a bank account of blessings we'll need during a hard road coming in the future. Other times, we get to witness the blessings immediately when a $10 cash card greets us unexpectedly. It seems all too unfair to receive $10 when we only paid $1.25, but I'm appreciative for that beauty of God's love and mercy. I'm grateful for the $10 cash cards I receive from Him and from the incredible people who bless my life and have made me a billionaire $10 at a time.